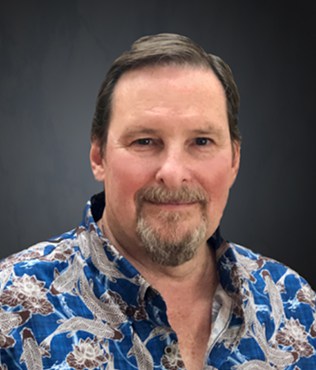 Barry Luz is a Senior AV Consultant for D. L. Adams Associates, an audio visual design group in Kailua, HI.  He has over twenty-five years of AV design and integration experience.  Barry began his career as a touring musician then transitioned into general AV design and integration.   Barry has designed audio systems all over the world for projects including corporate, broadcast, airport, cruise ships, hospitals, recording studios, national retail chains, libraries, training centers, stadiums, military installations, civic center complexes, convention centers, and movie theaters.
As an accomplished musician, Barry has toured with top-name entertainers as a player and audio engineer.  Also, he has held senior system design, technical, and sales-related positions with several major loudspeaker manufacturers.
Barry possesses the ability to oversee a project from the perspective of a consultant, installer, client, and end-user.  He has a comprehensive understanding of AV systems design in performance audio, high-end audio, communications, conferencing, sound masking, and paging systems.
Currently, Barry holds three U. S. patents in electronics and is an Adjunct Faculty Member with InfoComm Academy, and an American Institute of Architects (AIA) Certified Trainer in the subjects of Campus Emergency, Voice EVAC, and Mass Notification Requirements.
PROJECT EXPERIENCE                                                                                          
Devil's Slide Twin Mile-Long Tunnels Pacifica, CA
Data Center Security Herndon, VA
World-Wide Audio over IP Communications Seattle, WA
Hawaii Theater Honolulu, HI
Florida Veterans Hospital Pensacola, FL
JoyArt Music Studios Evanston, IL
Solar Electricity Power Plant Houston, TX
McCormick Place Convention Center Chicago, IL
Bloom Trail High School Performing Arts Center in Chicago Heights, IL
EDUCATION
Shenandoah Conservatory of Music, Winchester, VA
George Mason University Fairfax, VA
PROFESSIONAL AFFILIATIONS
American Institute of Architects (AIA)
InfoComm Academy (AVIXA)
CONTACT